Postcards
The most affordable way to get your message out to the masses. Premium quality HP Indigo printed 350gsm uncoated 100% recycled card, raw brown kraft, extra thick 600gsm card or letterpress cards / invites.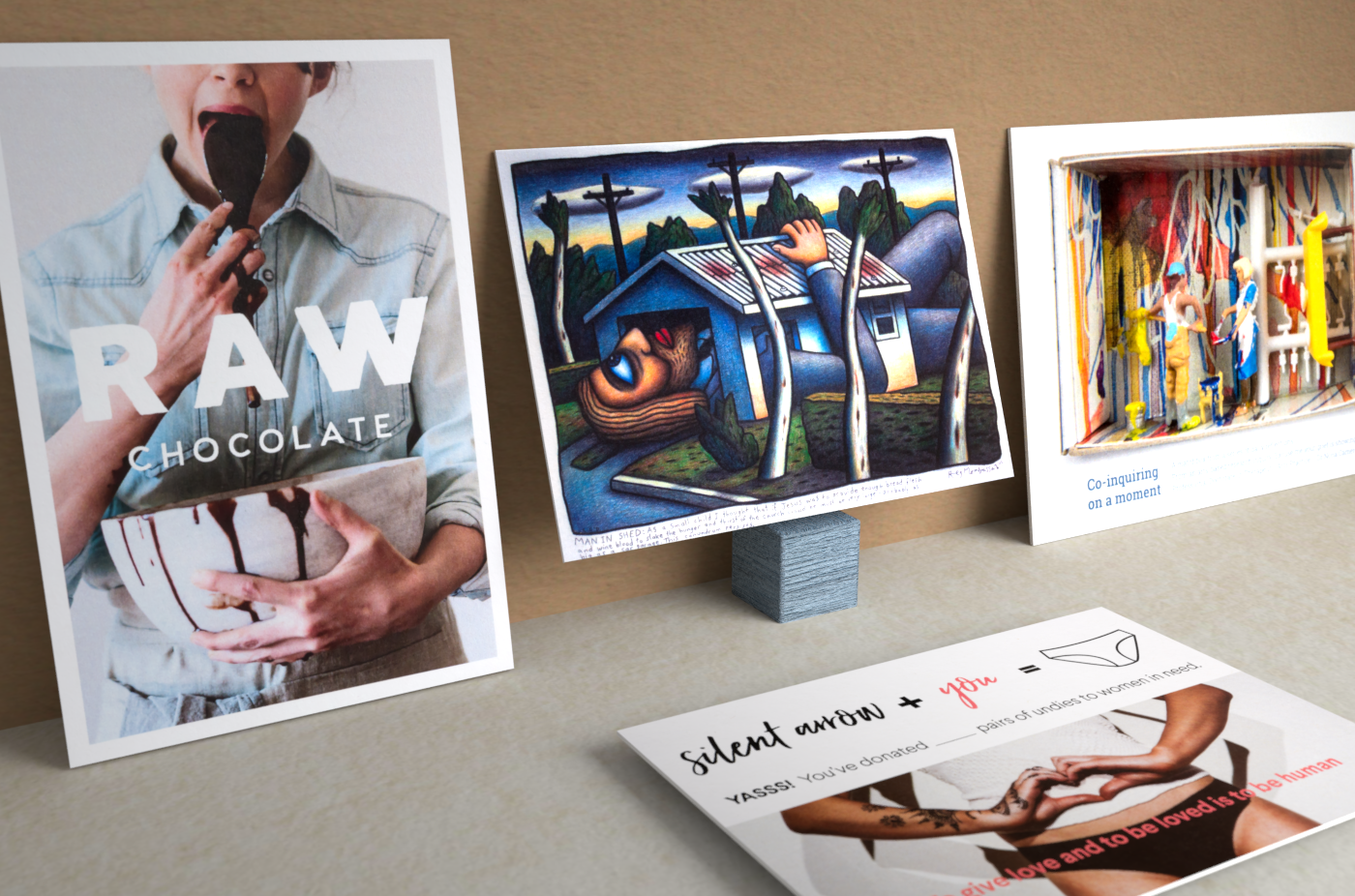 • Simple & cost effective
• 350gsm white uncoated natural feel
• 100% post-consumer recycled paper
• Premium quality HP Indigo printing
• Printed long-grain for extra strength
• Optional round corners & edge painting
Click below to see instant prices, or contact us for larger quantity pricing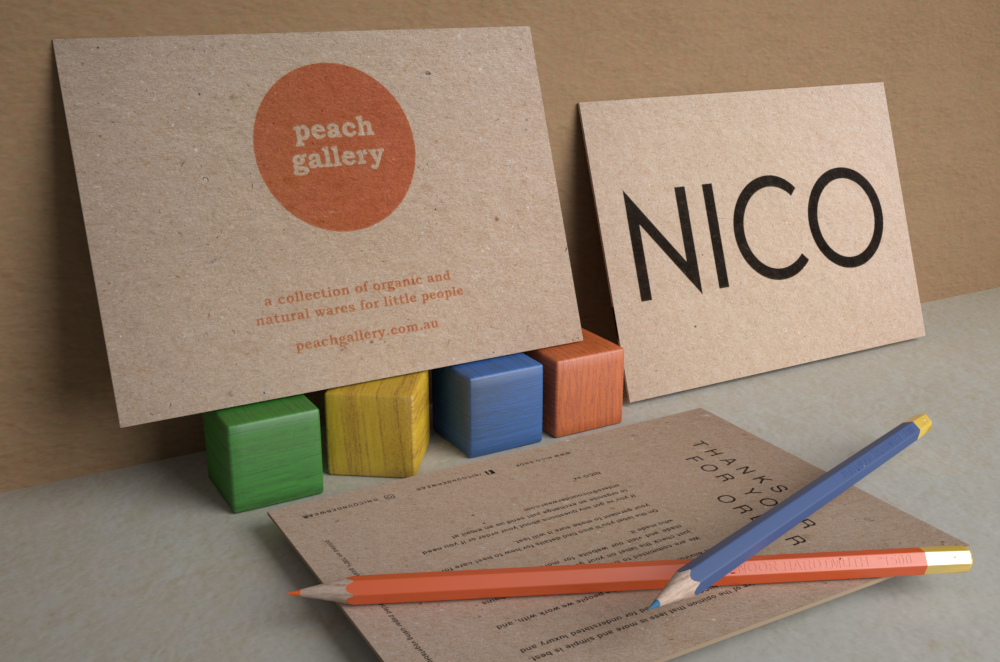 • 320gsm Raw kraft board
• 100% post-consumer recycled paper
• Natural & organic feel • Optional round corners & edge painting
Click below to see instant prices, or contact us for larger quantity pricing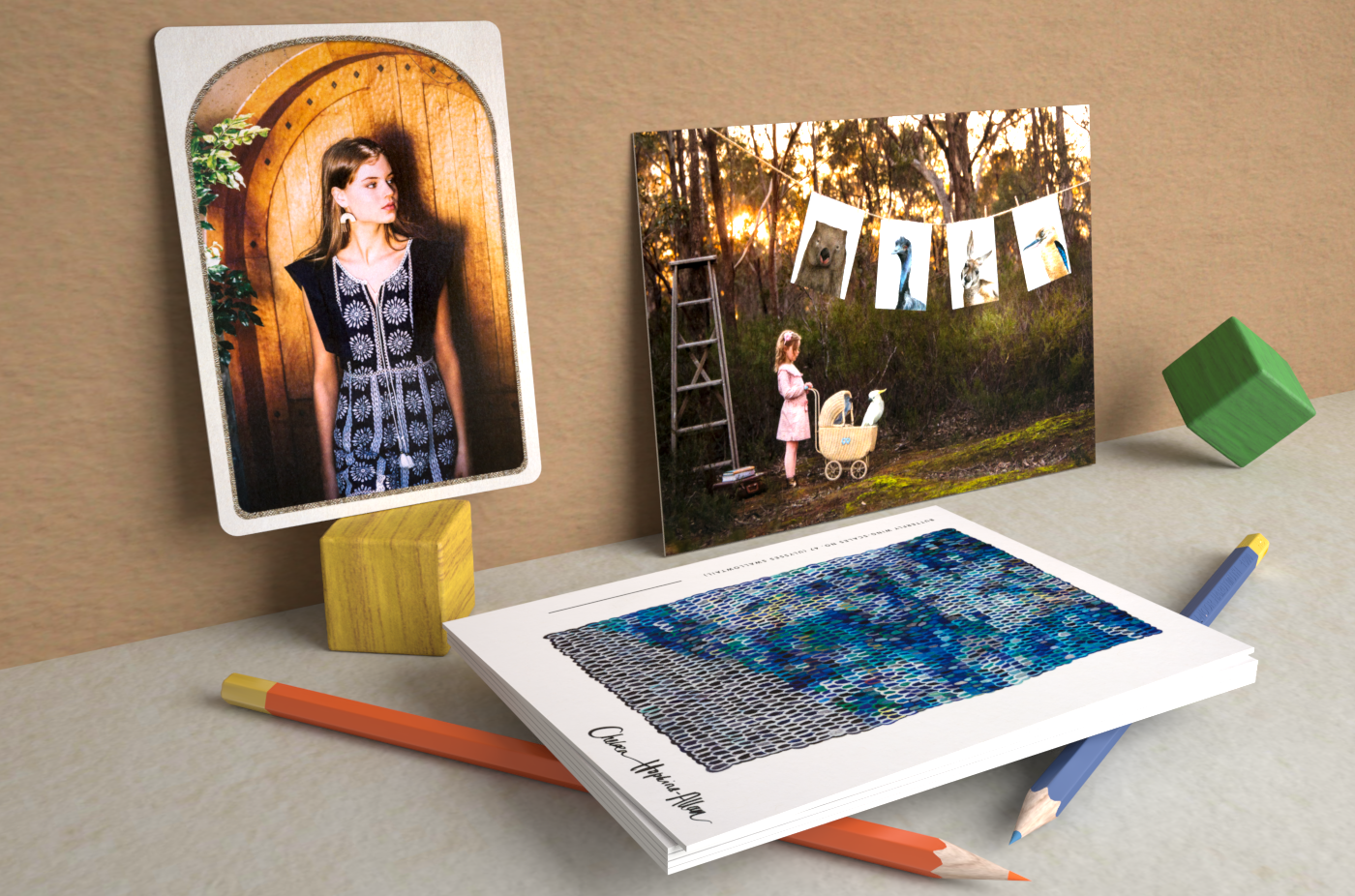 • 600gsm white uncoated
• 100% recycled paper
• Thick, earthy & wholesome
Click below to see instant prices, or contact us for larger quantity pricing
Affordable and fast postcard printing in Australia
If you're wanting to get the best affordable environmentally responsible promotional postcards in Australia, look no further. PrintTogether offer a number of excellent eco friendly postcard printing options that will help spread the word about your brand. Lets take a look in more detail.
Our postcard printing options:

Premium Uncoated Postcards
If you are going to do it, do it well on our premium quality 350gsm uncoated 100% post-consumer recycled white paper (EcoStar). This is our paper of choice for natural white uncoated postcards.
Printed on a state of the art HP Indigo for the very best results on a recycled uncoated paper. HP Indigo inks are used for our premium quality uncoated business cards to create an offset quality finish on small quantities without the offset price tag. Our premium uncoated postcards are ideal for businesses that care about quality and want a natural look and feel.
Kraft Postcards
Our raw brown kraft postcards have a natural, raw and organic feel. Made from unbleached 100% post-consumer recycled paper. Due to the colour of the stock we recommend printing dark colours for best results. Black only printing on kraft postcards is the most common with our clients, for a simple, minimal and natural looking card. Kraft postcards are ideal for natural, organic or environmentally focused businesses. Important note - some kraft papers such as Buffalo Board offered by other printers are actually made from very low levels or recycled paper pulp. At PrintTogether we only use 100% post-consumer recycled kraft paper for our kraft postcards.
Extra Thick Postcards
Conventional sheet fed printing presses can only print up to around 400gsm paper. Our unique processes allow up to create extra thick postcards that are 600gsm. The process is a little more complex and therefore more expensive than standard weight postcards. Thick postcard are ideal for small run special events.
Letterpress Postcards
Letterpress postcards are not fast to produce, they are not cheap to make due to the plates required and the time involved in setting up the press. You can not print CMYK (full colour) as per other forms of printing. You have to print 1 pantone colour at a time. Letterpress specialist papers (often made from cotton) are also a lot thicker and softer than digital or offset papers and substantially more expensive. For all of the above reasons letterpress postcards are not for businesses on a tight budget! Letterpress postcards are for people that appreciate the letterpress process and are happy to pay top dollar for a unique, premium quality tactile and textured postcard.
Design tip for letterpress postcards - Every colour and every side of a letterpress print is effectively a new print run. Therefore a double sided letterpress postcard is twice the price of a single side letterpress postcard. Likewise a two colour letterpress postcard is twice the price of a one colour letterpress postcard. If you really love the look of letterpress postcards but don't want to spend thousands of dollars, black only or one Pantone colour, one side is the most affordable way to design your artwork.
Postcard sizes

Our online postcards above are all available in standard sizes: A6 (105mm x 148mm), A5 (210mm x 148mm) and DL (99mm x 210mm). This is to maximise the use of the entire sheet of paper and minimise wise. Custom sizes are available on request, prices are dependent on how much space on press is required.
What are printed postcard used for?

The majority of postcards we print are used to promote a product or service. Promotional postcards over the years have replaced brochures as the most popular method of mass printed marketing. Postcards can also be used as thank you cards to include with products, or as invitations. Postcards are easy and affordable to design and print.
Fast turnaround and delivery Australia wide

You can start giving out your brand spanking new postcards in no time. We print our premium uncoated postcards and extra thick postcards collectively twice a week. Cut off for artwork each week is midday Tuesdays and Thursdays, for dispatch Thursday and Monday respectively.
Letterpress postcards are printed once a week.
We send postcards throughout Australia by Express Post or courier depending on weight and location.
Special finishes for postcards

All postcards we produce are guillotine trimmed with straight edges. If you would like to take this further we also offer:
5mm round corners
Round corners on postcards make them look and feel a little more stylish.
Edge painting
Jazz up your postcards by adding a colour on the edge of your card. PrintTogether offer 40 base colours as well as a handful of fluro and metallic options. Edge painting is a great effect for special event postcards. PrintTogether edge paint postcards once a week on Monday.
Customer service and online resources

Our goal at PrintTogether has always been to make printing postcards on recycled paper easy and affordable. To help make this possible we have developed our own system software that enables easy instant online prices and ordering. Behind the scenes our unique system also allows us to manage orders efficiently and manage workflows to ensure the best use of paper and press time.
Blind shipping

Are you a designer or print broker managing the printing of postcards for your clients? Select blind shipping when placing orders online and we will send your items out in unbranded plain packaging as though it had come from you.
Free sample pack

Want to see and feel the weight and quality of our postcard paper stocks, printing and special finishes before ordering?
Request our free sample pack
.
Postcard design
Postcards are a versatile and a fantastic way to get in touch with your target audience. They are most often used as a call to action so should be bold, with your objective clear and intriguing.
When you're sorting your design, keep in mind what you want to achieve with your postcards. Do you want to advertise a new product, get connected with potential customers, follow up with existing clientele, or get people excited about an upcoming event? Think about who you want to pay attention and direct your postcard to them. This is a teaser that will ideally get people to look at your website, follow you on social media or get in touch.
How you or your company comes across will depend on your postcard design. Visual impact is created with colour, text and font types, along with composition and format. Use the space wisely and keep your design consistent and personalised. Simplicity goes a long way.
FAQs for postcards

Can I print more than 1 postcard design?
Yes just select the number of kinds when placing your order online.
Do I have to wait longer to get my postcards if they are printed with other businesses?
We print postcards twice a week. As soon as we receive your order and artwork we allocate you to the next print run that week.
Do you print postcards in Australia?
Yes all of our printing is done in Australia. The majority of our postcards are printed in our workshops in Castlemaine, Victoria.
Do you have set quantities for postcards?
Yes, in order to reduce the costs of printing postcards, we group all cards together based paper stock and set quantities of 50, 100, 250, 500 and 1000. We then impose and print these together on large sheets of paper in those quantities.