How to add bleed and crop lines in Canva?
Step 1. Starting a design for printing
When you start a new design or load a Canva template, it generally shows you just the exact shape and size of the finished item as per the image below. In this example it appears the background colour and the main image go all the way to the edge. However, to create bleed for printing these elements need to stretch past the edge of the document.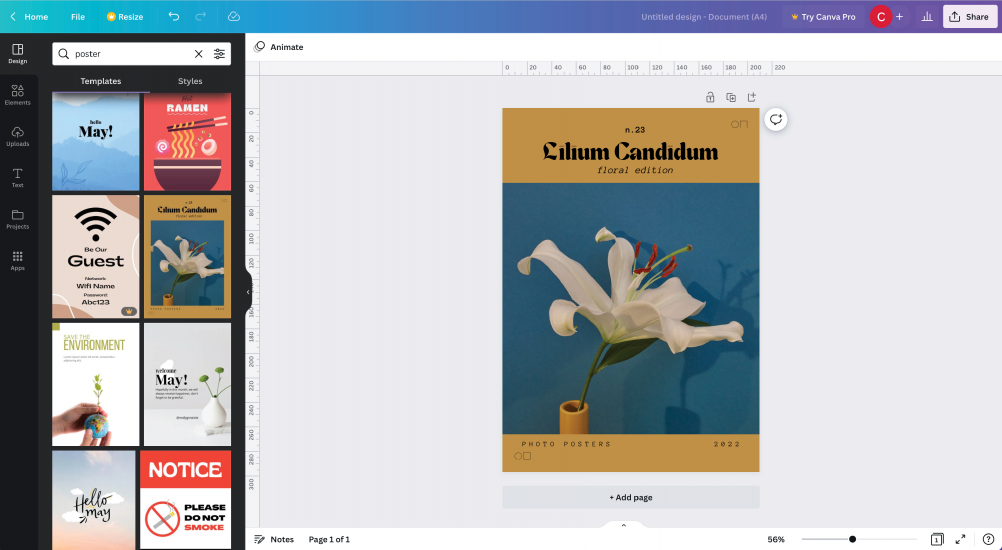 Step 2. Checking bleed

Canva allows you to view the bleed area of documents by selecting File / View settings / Show print bleed from the main menu (see example below). Once this is ticked it will show you the bleed area. In the example below, the background colour extends into bleed however the image stops at the trim edge on the left and right sides. This needs to be extended into the bleed area to be set up correctly for print.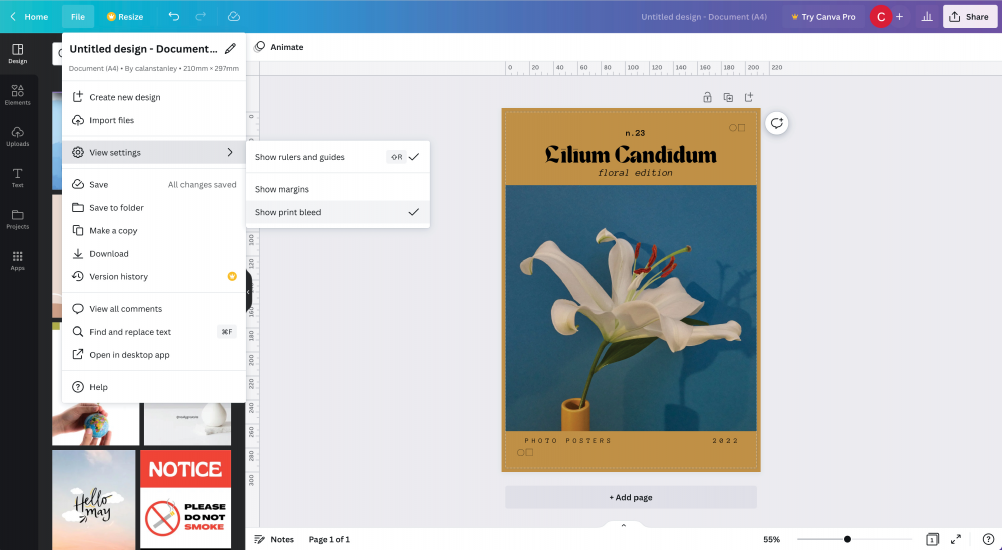 Step 3. Extend items into bleed

To extend items such as images into bleed, simply select the image and then use the corner circles to either increase the overall size of the image box or use the side handles to increase the width or height. In the example below we have stretched the side handles of the image left and right into the bleed area.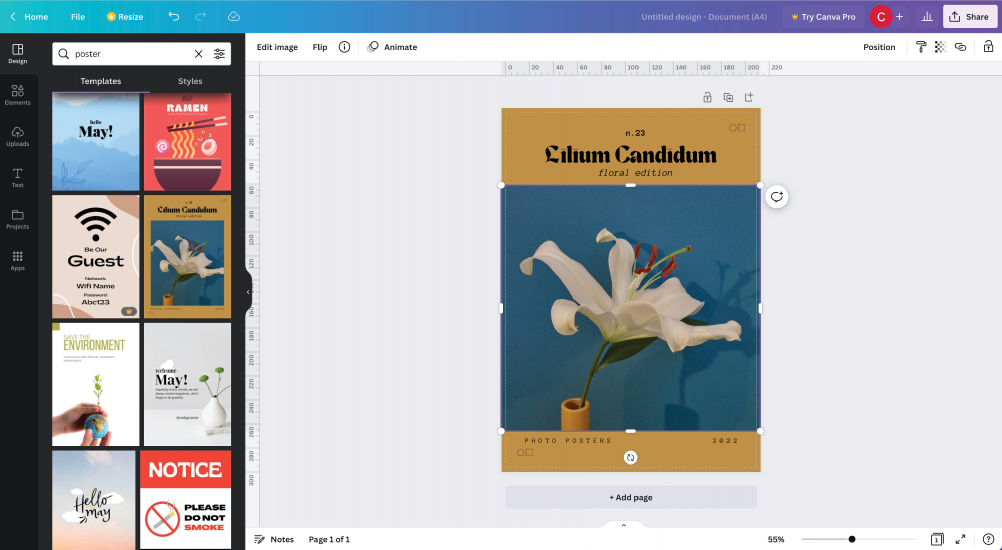 Step 4. Exporting to print

Once you have checked all elements of your design extend into the bleed area, then you are ready to export to print. Canva offer a range of export options. For printing, you need to click the 'Share' button in the top right hand corner and then select 'download' from the menu items. In the download options, select 'PDF Print' for the file type (see below).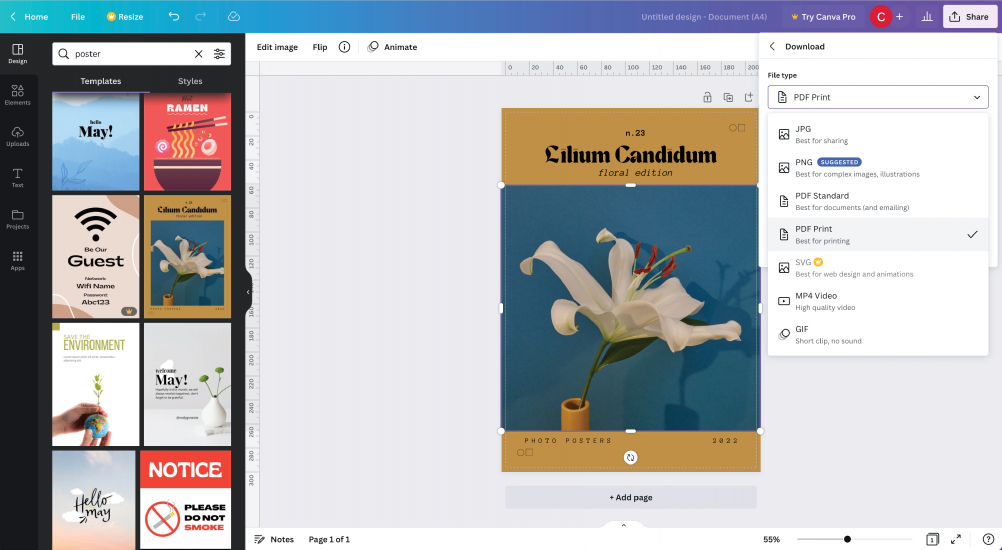 Step 5. PDF Print settings

You are then given a few different print settings. Tick 'crop marks and bleed' and keep the colour profile as 'RGB (best for digital use)'. There is now an option to convert from RGB to CMYK in Canva, however for best colour results we suggest leaving files as RGB and PrintTogether can convert professionally in our pre-press process.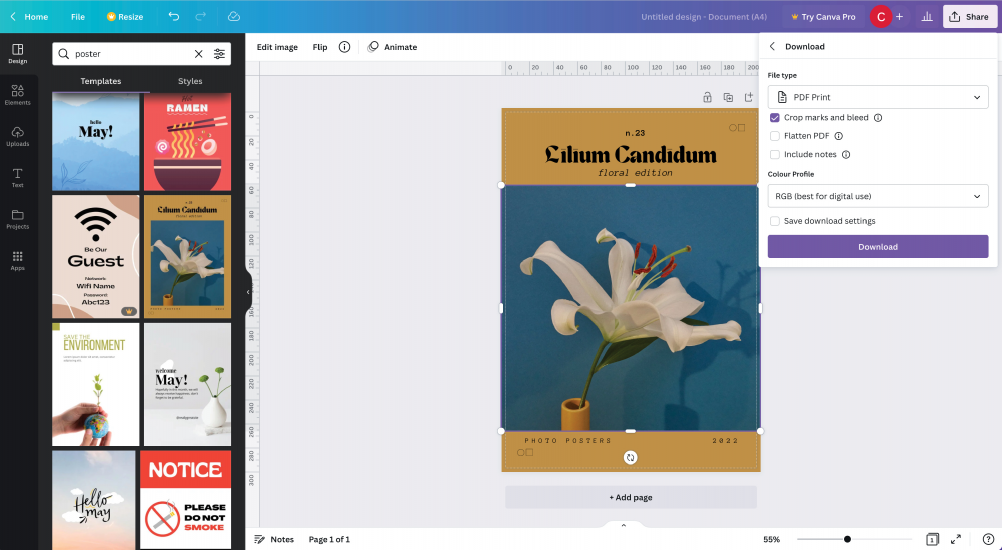 Step 6. Download PDF for printing

Finally, click the 'Download' button to download your press ready PDF with bleed and crop lines. If your PDF shows your artwork extending past the crop lines into the bleed area, the file is set up correctly for printing. If any elements stop at the edge in line with the crop lines, then you will need to go back into Canva, extend these elements and download again.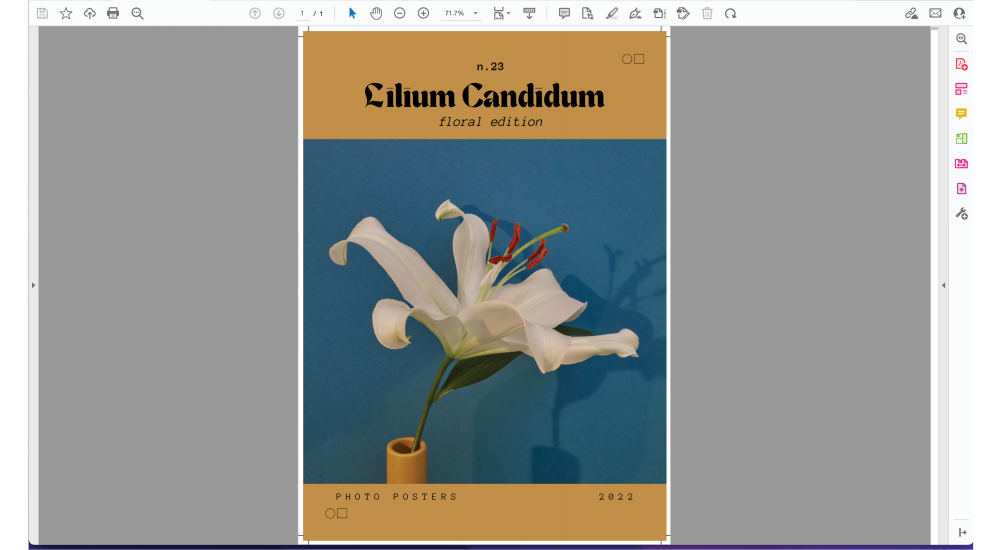 View instant sustainable printing prices online
MORE DETAILS
What is Canva?
Can
va
is
a
online
design
platform
used
to
create
designs from pre-made templates
.
It
is
a
powerful
tool
that
allows
you
to
create
visuals
for
print
and
digital
media
such
as
posters & flyers
,
cards
,
websites
,
social
media
graphics
,
and
more
.
It
features
an
intuitive
drag
-
and
-
drop
interface
,
a
library
of
customisable
templates
,
and
a
library
of
over
a
million
photos
,
illustrations
,
and
icons
.
With
Can
va
,
anyone
can
create
professional
-
looking
designs
in
minutes
,
even
without
any
design
experience
. Files can then be downloaded to print on recycled paper with PrintTogether.
Preparing print files in Canva
There are a number of print products you can design in Canva, such as business cards, postcards and invitations to just mention a few. As Canva is a global platform a lot of sizes are setup for a US market. It is advisable when printing in Australia to double check the size of any templates prior to working on them to ensure they match the size required.
What is bleed and crop lines?

When designing for print you need to export PDF files with bleed and crop lines. Bleed is the area outside of the edge of your artwork. Crop lines are used to indicate where items need to be trimmed. Bleed and crop lines are required for printing to ensure any background colours, images or graphics bleed all the way to the edge after trimming. If bleed is now added you can end up with a none printed line up the end of your finished prints.