Swing tags
Make your products pop with premium quality 350gsm recycled card, raw brown kraft or super thick swing tags.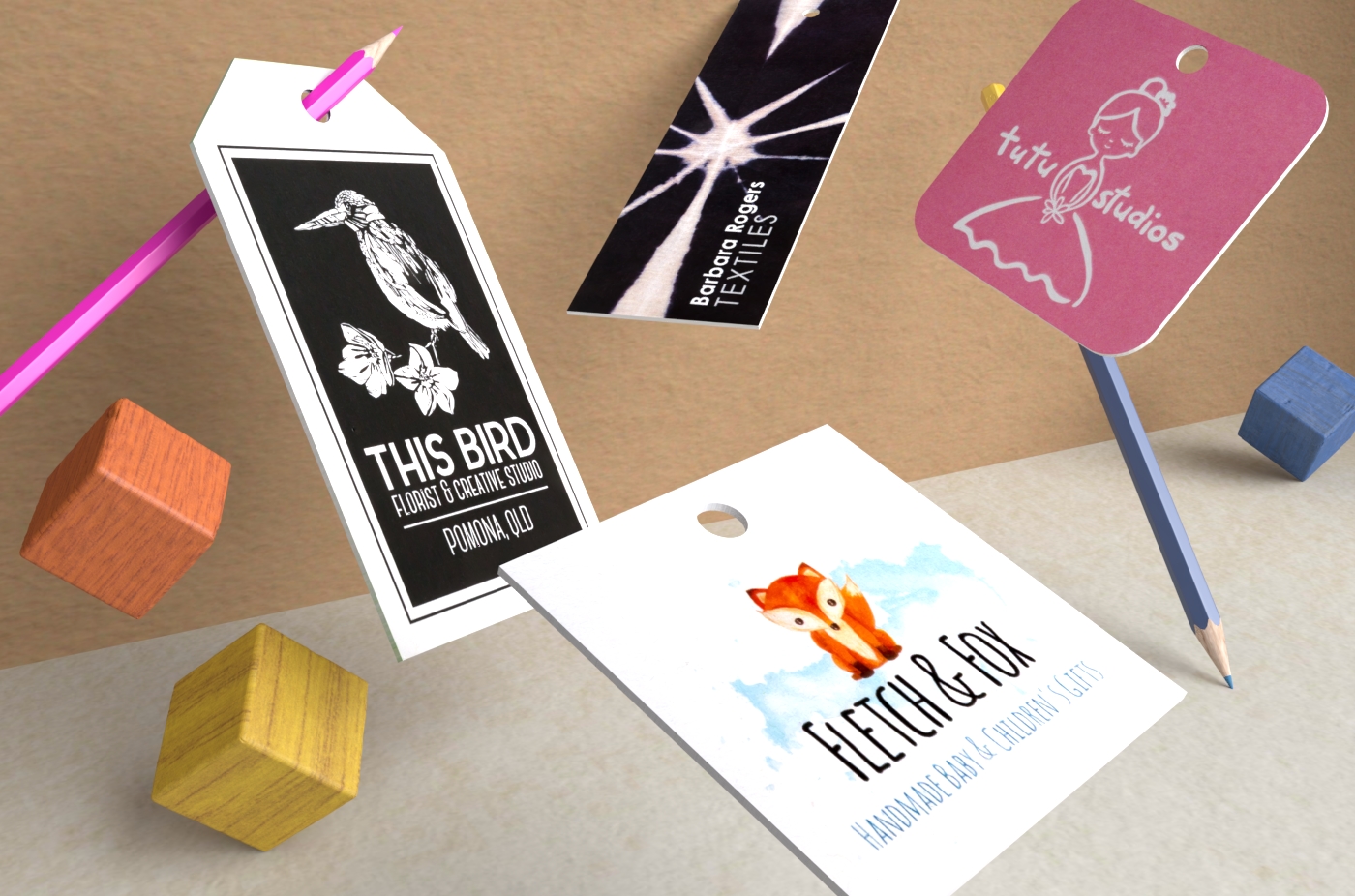 • Simple & cost effective
• 350gsm white uncoated
• 100% post-consumer recycled paper
• Printed long-grain for extra strength
• 3mm or 5mm drill hole
• Optional round corners & edge painting
Click below to see instant prices, or contact us for larger quantity pricing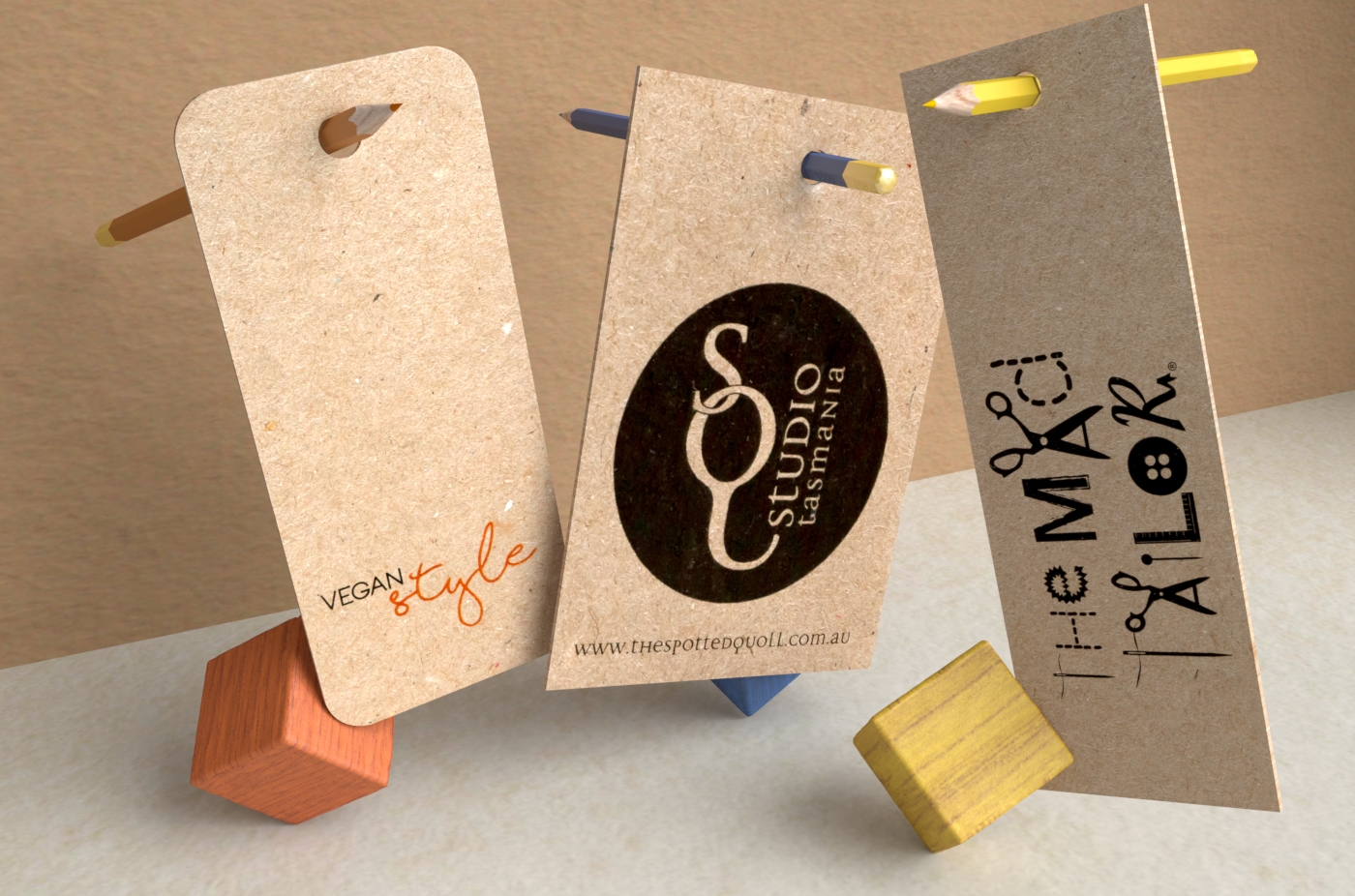 • 320gsm Kraft board
• 100% post-consumer recycled paper
• Natural & Organic feel
• 3mm or 5mm drill hole
• Optional round corners
Click below to see instant prices, or contact us for larger quantity pricing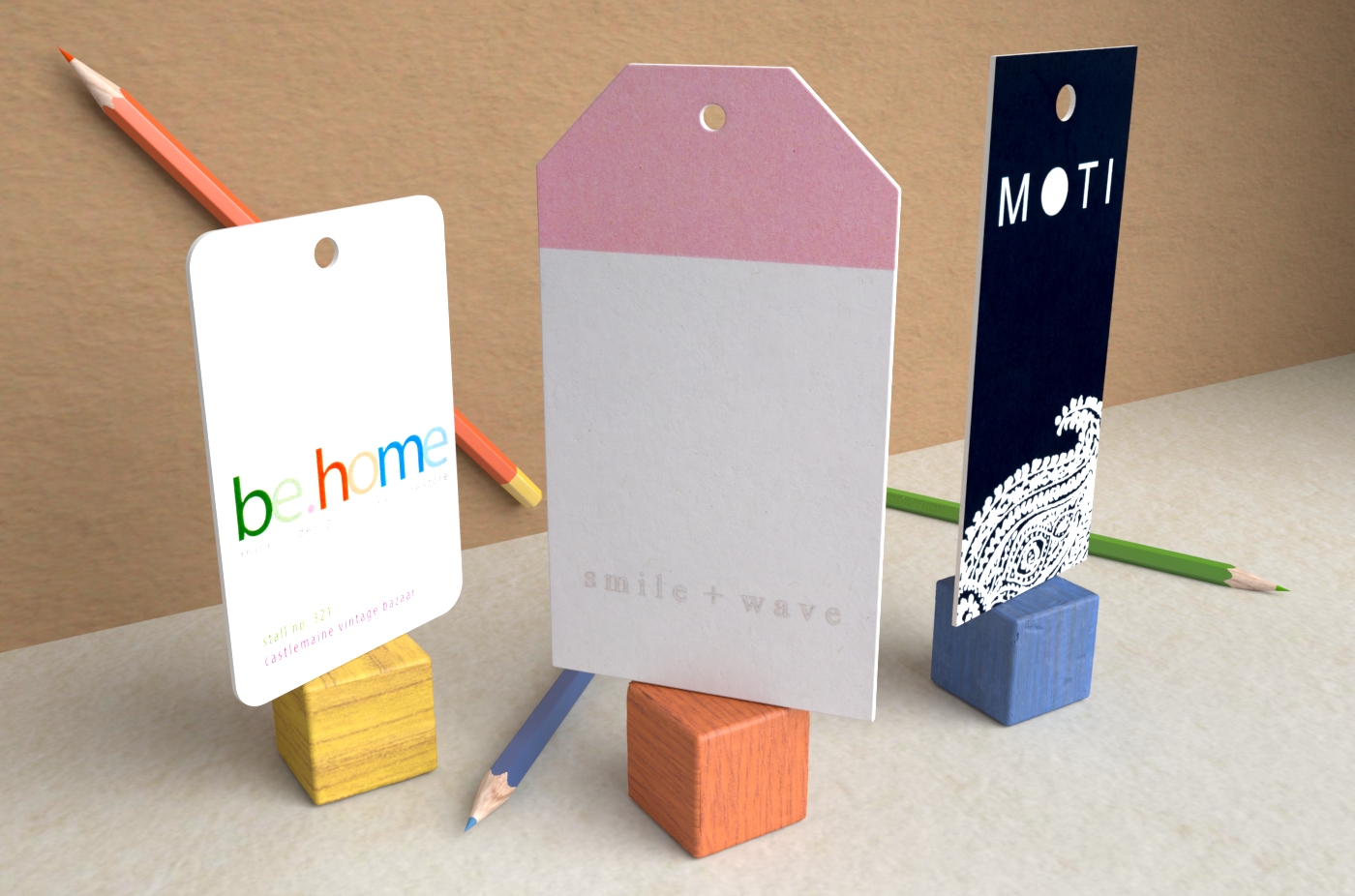 • 600gsm white uncoated
• 100% recycled paper
• Thick, earthy & wholesome
• 3mm or 5mm drill hole
Click below to see instant prices, or contact us for larger quantity pricing
Swing Tags / Product Tags
Swing tags are an essential item for retail products. Our range of swing tags are designed to be cost effective, premium quality and environmentally friendly.
Swing tag sizes

Our online swing tags above are all available in standard sizes: 90mm x 55mm, 55mm x 55mm (square) and 120mm x 40mm. This is to maximise the use of the entire sheet of paper and minimise wise. Custom sizes are available on request and we are able to cut any of the above sizes smaller if required.
We also offer a choice of 3mm or 5mm drill holes. Additional holes for items such as earring tags are also available on request. Thread is not included with swing tags.
Our swing tag range:

Premium Uncoated Swing Tags
Our most popular paper for swing tags is 350gsm uncoated 100% post-consumer recycled (white). This paper printed on a HP Indigo give amazing offset quality results. Our premium uncoated swing tags are ideal for businesses that care about quality, need a regular supply of swing tags with a natural look and feel.
Kraft Swing Tags
Our raw brown kraft swing tags have a natural, raw and organic feel. Made from unbleached 100% post-consumer recycled paper. Due to the colour of the stock we recommend printing dark colours for best results. Black only printing on kraft swing tags is the most common with our clients, for a simple, minimal and natural looking card. Kraft swing tags are ideal for natural, organic or environmentally focused products. Important note - some kraft papers such as Buffalo Board offered by other printers are actually made from very low levels or recycled paper pulp. At PrintTogether we only use 100% post-consumer recycled kraft paper for our kraft swing tags.
Extra Thick Swing Tags
Conventional sheet fed printing presses can only print up to around 400gsm paper. Our unique processes allow up to create extra thick swing tags that are 600gsm. The process is a little more complex and therefore more expensive than standard weight swing tags.
Fast turnaround and delivery Australia wide

You can start packaging your brand spanking new swing tags in no time. We print our premium uncoated swing tags, kraft swing tags and extra thick swing tags collectively twice a week. Cut off for artwork each week is midday Tuesdays and Thursdays, for dispatch Thursday and Monday respectively.
We send all swing tags Express Post throughout Australia to get them to you as quick as possible.
Special finishes for swing tags

All swing tags we produce are guillotine trimmed with straight edges. If you would like to take this further we also offer:
5mm round corners
Round corners on swing tags make them look and feel a little more stylish.
Cut corners
We are able to cut 45 degree angles on the top of swing tags if desired.
Edge painting
Jazz up your swing tags by adding a colour on the edge. PrintTogether offer 40 base colours as well as a handful of fluro and metallic options. PrintTogether edge paint swing tags once a week on Monday.
Customer service and online resources

Our goal at PrintTogether has always been to make printing swing tags on recycled paper easy and affordable. To help make this possible we have developed our own system software that enables easy instant online prices and ordering. Behind the scenes our unique system also allows us to manage orders efficiently and manage workflows to ensure the best use of paper and press time.
Free sample pack

Want to see and feel the weight and quality of our swing tag paper stocks, printing and special finishes before ordering?
Request our free sample pack
.